Microsoft to Challenge Google's Classroom Dominance
---
Microsoft is expected to challenge Google's dominance in the classroom with announcements from a press conference in New York City streamed to the web on May 2nd. Although no details are available, what are the potential impacts of this event?
The education equation consists of three key elements; affordable hardware, robust apps, and ease of administration. It is important to note all cloud based solutions assume connectivity to the Internet.
Affordable Hardware
Google
This is one area where Google excels. Chromebooks targeted toward education are very affordable with some manufactures adding durability enhancements to help extend their life in the demanding classroom environment. When you are purchasing hundreds or perhaps thousands of units, pricing is critical as a savings of even $50 can add up quickly. Google also provides much of the supporting infrastructure at little to no cost.
The other key benefit of these devices is even though they may not offer robust performance, they are still very usable. And last; they are easy to setup. Very few teachers want to become IT experts and some schools may not have access to IT experts.
Chromebooks
New educational 2-in-1 Chromebooks from Google partners include the following:
Most of the individual features are shared by all of the Chromebooks listed above.
Microsoft
Microsoft has struggled in this area and it's not because affordable solutions have not been released. The HP Stream is a good example.
HP Stream Specifications
Screen Size: 11.6 inches
Screen Resolution: 1366 x 768 pixels
Processor: 1.6 GHz Intel Celeron (N3050)
RAM: 4 GB DDR3L-SDRAM
Memory Speed: 1600 MHz
Hard Drive: 32 GB emmc
Graphics Coprocessor: Intel HD Graphics 400
Wireless: Type: 802.11 A/C
Number of USB 2.0 Ports: 1
Number of USB 3.0 Ports :1
Other

First year Office 365 Personal with 1TB of OneDrive storage subscription

$199 (Walmart)
Priced at $199 some assert this is the Microsoft solution for education; but it is not. Reviews of this product and other similar products consistently complain of poor quality displays, inadequate keyboards, and inferior touchpads. Coincidentally, these are the three areas where usability and hardware intersect. Regardless of the price, folks want value for their dollars.
Cloud Book
Microsoft is rumored to be working on their own version of a low cost solution which will be announced at the upcoming event. Some have suggested it will be called the Windows 10 Cloud Book and may feature an ARM processor. Qualcomm has confirmed Microsoft will be shipping a Snapdragon 835 ARM equipped laptop later this year (Q4) but declined to comment on the model.
Leaked documents obtained by Windows Central assert the Windows 10 Cloud Book performance targets.
Hardware Recommendation
Quad Core Processor (Celeron or better performance)
4 GB RAM
32/64GB eMMC/SSD Storage
40 Whr Battery
Pen/Touch Optional
It is certainly conceivable the Cloud Book could meet these hardware requirements, use the design language of the Surface product line, and be sold with an optional keyboard and stylus for $299.
Robust Apps
Cloud Services
Cloud services are not apps per say, but they are fundamental to their operation. Google and Microsoft cloud services are available to education but these services are targeted toward university and research organizations. For the K-12 market, both offer cloud app hosting and data storage.
| Cloud Service | Google Apps | O365 (Free) | O365 (Paid) |
| --- | --- | --- | --- |
| App Hosting | yes | yes | yes |
| Email storage | unlimited | 50GB | 50GB |
| Personal storage | unlimited | 1TB | 1TB |
| Website storage | 100GB | 1TB+500GB/user | 1TB+500GB/user |
| Website storage limit | 100GB | unlimited | unlimited |
It is important to note Microsoft Office 365 (O365) refers to the web versions of these applications.
Apps
The baseline for both Google and Microsoft is their productivity G Suite and Office 365 respectively. These apps give students the ability to create and edit text documents, spreadsheets, and presentations.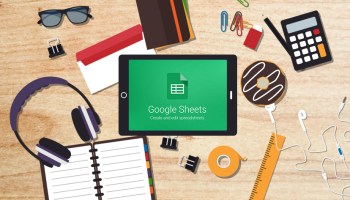 Communication is satisfied by their email solutions Gmail and Outlook. Organizational functions are handled by Google Sites and Sharepoint. The area where Google and Microsoft disagree is their note taking solutions. Google uses a quick and dirty approach to their "Keep" application. Microsoft's OneNote Class Notebook is just the opposite. OneNote not only provides a solution for capturing notes, but supports 3rd party extensions to grow its functionality. For folks looking for other solutions, the current king of note taking is EverNote and it runs on both platforms. Google and Microsoft offer additional educational apps through their respective app stores. Teachers and students can find Google Chrome apps in the Chrome Web Store and Android apps in the Play Store. Microsoft apps can be found in the Windows App Store. Rumor has it expansions to the Microsoft store will be a part of the upcoming announcements.
Ease of Administration
Both Google and Microsoft have dedicated applications for managing the classroom. Activities include but are not limited to:
Set up and Manage classes
Create, Manage, and Grade assignments
Google Classroom is a part of the Google Apps for Education suite and Microsoft Classroom is a part of the Office 365 Education suite.
Up and Coming
Educational VR
Many believe virtual reality is the next big thing in the classroom. At this point it's hard to say whether schools will adopt VR labs designed for this purpose or if the technology will become a classroom activity. Google's Daydream VR solution requires a phone certified for this purpose and regardless of the choice, it is going to be expensive ($600 or more). Google also has a lower cost option called "Cardboard" but it also requires a cell phone to work. DELL, HP, and Acer announced low cost ($299) Mixed Reality headsets for Windows 10 at CES 2017. It is rumored one or more of these devices will be included in the May event. At $299 the question to be answered is, what is the quality of the user experience?
Wrap up
Supporting the needs of today's classroom is complicated. It's not just about the technology, it's about supporting the ecosystem. There is no doubt releasing a quality laptop in the sub $300 price range will not hurt Microsoft's efforts in gaining education market share, but it is highly unlikely such a device will disrupt the market. Microsoft's strength has always been its PC base as customers coming from this environment are familiar and comfortable with their products. There is no argument Microsoft's software solutions are robust, but do they offer too many choices and are they too complex for some schools to manage? Google's strength is they have a plan for education, they have been executing this plan for a number of years, and currently has momentum. This momentum is supported by manufactures who are designing and selling Chromebooks targeted specifically to education. Google understands the teaching ecosystem and strives to keep their software robust but manageable.
Nothing's for certain, but I'm sure all our questions will be answered next week – stay tuned.
---